Routine III // oct. '20
---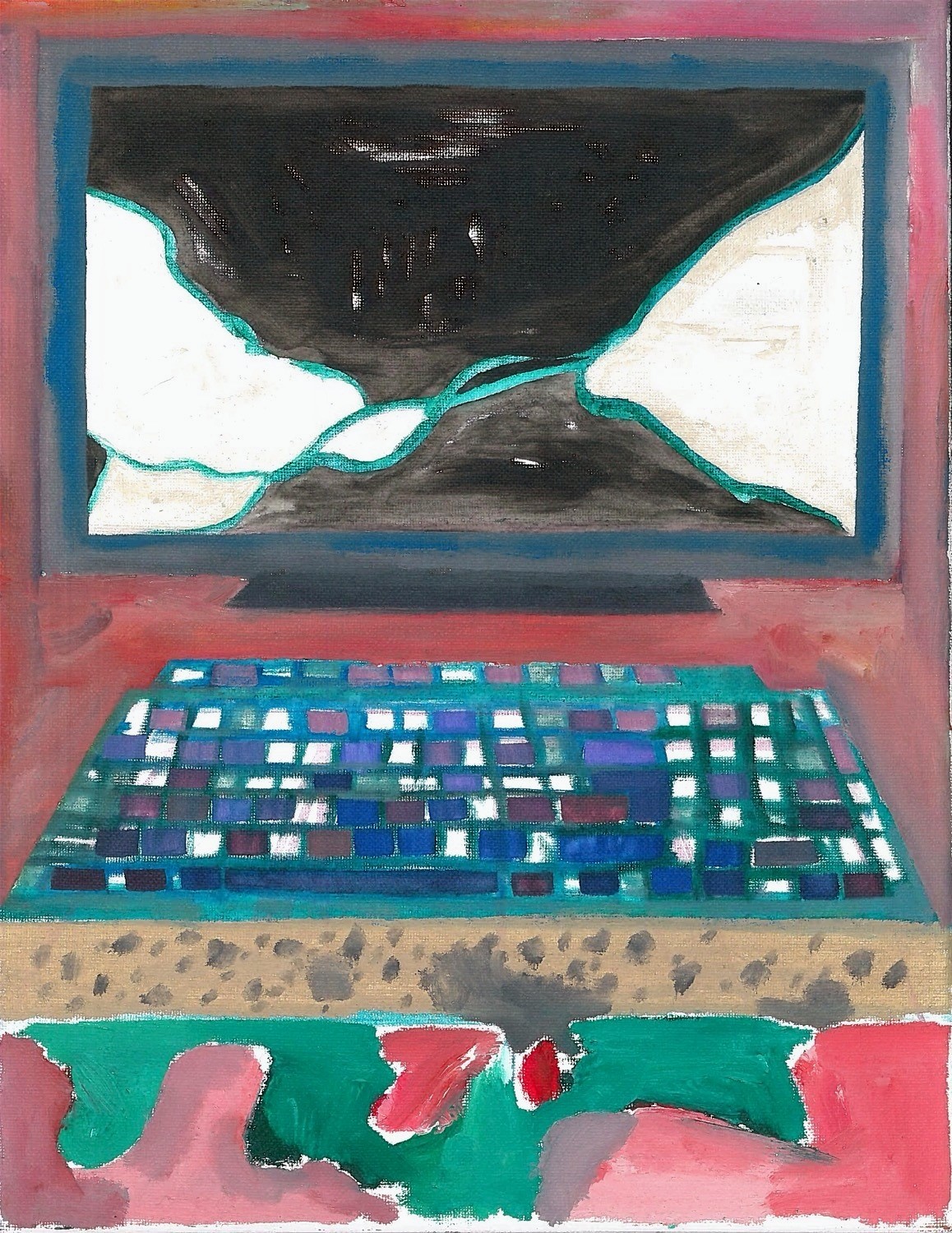 Routine III is one of five in a series I painted in the final weeks of 2019. The series is about my ambivalence to keeping a routine when everything feels broken. The painting depicts my job; a broken monitor, the keyboard, and germs. I work in the member and visitor services department at the Museum of Fine Arts in Boston. The style was inspired by the painter Philip Guston, whose influence is most explicit in this work. Around this time, I learned the MFA was involved in the upcoming Guston retrospective, which included three other museums. Here, Routine III serves as a segue to my thoughts relating to the postponement of this exhibition. The show, Philip Guston Now, already rescheduled to open this fall due to covid-19, has been postponed until 2024. The reason given for the postponement was a chance to reframe the programming and bring in additional perspectives to shape the presentation of Guston's work in response to the shift in contexts due to recent events.


The call for more perspectives led me to think about what contexts are most relevant to me, as someone who relies on one of the public institutions for employment and access to art. The perspectives I'm engaging in does not address racism directly. I don't feel physically or emotionally threatened by the characters Guston drew and painted, nor do I think my experience is misrepresented or minimized. Still, I can imagine someone having such reactions. With two to three years to reframe a completed show, I hope additional conversations can be had alongside a dialogue about the ongoing anti-black racism in America.


Guston's late work had many themes; loneliness, evil, the artist, his admiration for Italian Renaissance painters, doom, and ways to cope, but the two I find most relevant and all-encompassing is power and self-reflection. Guston exposed corrupt power with the Nixon comics, stripped power away by painting KKK figures as cartoonish characters in compromised states, and resisted it by parting with his generation's dominant style, abstract expressionism. He reflected on his capacities for evil by painting hooded figures as a stand-in for the artist in the studio, contemplating canvases, and performing mundane activities—artists and critics as the evildoer.


The proposed topic of conversation concerns Guston's reminder of the enduring threat of corrupt power. A self-reflection by the Museum's administration on power dynamics within its organization and its culpability in race/class disparities. The museum claims in the plaque for the newly installed mural, No Weapon Formed Against Thee Shall Prosper, at the MFA's front lawn: "...[T]he MFA works to be a site where critical dialogues can take place in the presence of, inspired by, and provoked by great art of the past and of our own moment." The dialogue I'm proposing is a critical one and very relevant to the Museum. Failing to engage this dialogue can also be seen as a gesture of nonchalance with existential consequences because, in short, there is a looming climate catastrophe. The crisis exacerbates preexisting disparities, including racial discrimination addressed by Guston's late motifs.


There is another context that encourages this reflection by the admins of the 150 years old cutural nonprofit. The day before the Guston postponement announcement, MFA staff filed a petition to form a worker's union, representing 231 staff members. An election date by mail is set for late October. The union is a challenge to concentrated power. A small collective is in charge of decisions that impact the institution's employees, visitors, local communities, and the kinds of services provided and to whom. I hope Guston's reflections on power and corruption resonate within the Museum's administration, leading to a candid conversation with the community within and outside its walls. The MFA is a nonprofit, a public cultural institution, not an amoral corporation. To be inclusive, the institution has to exclude conflicting ideologies.


The administration communicated their opposition to the union, and in response to the announcement, hired a law firm with an anti-union history. A weapon can take many forms. Perhaps I was naive for thinking the administration might include in their artillery anecdotes from art history.


In 1980, when Guston died, a homeless teenager in New York City named Jean-Michel Basquiat was transitioning from making word-based graffiti in public spaces to drawings and paintings on moveable surfaces. As I'm writing this, the member preview is taking place for a show featuring Basquiat and his contemporaries at the MFA, titled Writing the Future: Basquiat and the Hip-hop Generation. The context in Basquiat's work is diverse. Things he depicted include slave auctions, police brutality, black people's contributions to culture, and mural-sized triptychs filled with art historical references. Some of the themes addressed in his work are anti-black racism in America, capitalism, tokenization, and the art world's brutal commercialization, which contributed to his demise. He died alone at age 27 of a drug overdose.


The Basquiat show is sponsored by Bank of America. The admission fee is $30. There's a discounted option for the final entry timeslot on Wednesdays; the price type is labeled "$5 Wednesdays Presented by Chase". The shop displays aggressively priced merchandise covered in Basquiat's art, hoodies, bags, toy mascot figures. Shirts in collaboration with a clothing brand. There's a $600 chair featuring a painting with the phrase "per capita" drawn twice on the backrest. Since preparedness to present a show in contemporary context and respect for the artist mattered so much that three major American museums postponed a five-year effort by 2-4 years, how does one justify this showcase of Basquiat's work with its insensitive disregard for the context of his life and work?









Family Tree // oct. '20
---



I made Family Tree in December of 2018, preceded by a period of deterioration in my self-care.


I saw the pictures I was making as transitional works, a transition of skill and content. I was preoccupied with the notion of before and after; dichotomies as the framework. This approach encouraged incremental steps. Each picture called for an expansion or a repudiation by another, a serial process. I had just finished a few pairs of paintings. A depiction of the pulse-y afterimage darkness when I close my eyes, paired with its opposite, blinding light, an almost pure white picture with faint washes of warm and cool tones. A pair of abstract landscapes of large patches of deep reds and violets alluding to doom and ruin.


Family Tree was made throughout an evening, done without any premeditation about the actual mark-making, as I often experience transitional works to be. After settling in from a day at work, I brooded for a while. I thought about death. Then I thought about the passing of my mom. She was 27 when she died. Her death had a new relevance because I was 23, and I knew some 27-year-olds. Besides our generational difference, trauma and despair are universal, and I could empathize with her situation as a peer.


I remembered the changes that took place during her final years. At 23, she got married and gave birth to me. My dad had left a few months before for America to find work as a cook. After two years, she left me in my paternal grandparents' care and headed for America to join him. They lived in New York City. At 26, she gave birth to my brother. Then the family relocated to central Florida, where she died shortly after. During the final years of her life, she dealt with her partner's absence, gave birth twice, parted with her toddler, and transitioned to a precarious life in a foreign land.


Then I looked over the pictures I saved of the police reports and newspaper clippings. She died upon impact when she walked into the path of an oncoming car on a highway one night in December. The newspaper report named the driver of the westbound minivan. I typed that name into a search engine, and I found an obituary for the driver's son, who had the same name, from three months prior. The text mentioned that the father had passed away four days before Jr.


Is there a proper way to act and feel when you're a young person experiencing one separation after another due to circumstances beyond your control? How might witnessing firsthand a gruesome death alter your and your family's life?


I felt moved by intense grief and simultaneously, its release, enchantment via trauma. I treasure these moments, for they often lead to healing tears and an afterglow of gratitude and compassion. What I got from that particular night was an improved readiness to acknowledge the unthinkable, devastating characteristic of life, never far from the periphery.


I made some marks on canvas with soft charcoal. This followed by a crude sketch of the moment of impact, done with leftover paints from the night before. Then I copied an excerpt from the newspaper report and wrote the late father and son's names in the blank spot. Lastly, I sprayed fixative over the paint to make it run like gasoline on wet asphalt. The compositional choices of the picture were arbitrary. It could have been a journal entry. I was using up materials and filling in a blank canvas, which seemed like a good enough reason to do it.